RECONNECT  TO  THE  NATURAL  WORLD.   IT'S  WAITING  FOR  YOU.
"I'm here, I thought to the horse. We're here. Please, tell me who I really am. Please tell me I'm OK." — Shawna Ervin, participant, author of award-nominated essay "Connected," which you can read here.
Connection to the natural world, to other human beings, and to our own bodies is the root of wellness and well-being. It restores lives frayed by stress, shut down by despair, and shattered by violence. Ibachakali (click the word to hear a sound file) is a Choctaw Indian word for "connected" or "connection"*. Tapestry's program Horse Ibachakali re-establishes the healthy and healing connections that are every human's birthright. It does this through sessions that integrate mindfulness, Mustangs, and Indigenous worldview in an empowering experience that transforms individual human lives. It is literally unique, the only program of its kind. As one participant said, "It teaches you something about yourself that you didn't know and you can't learn in any other way." You can read other powerful testimonials here.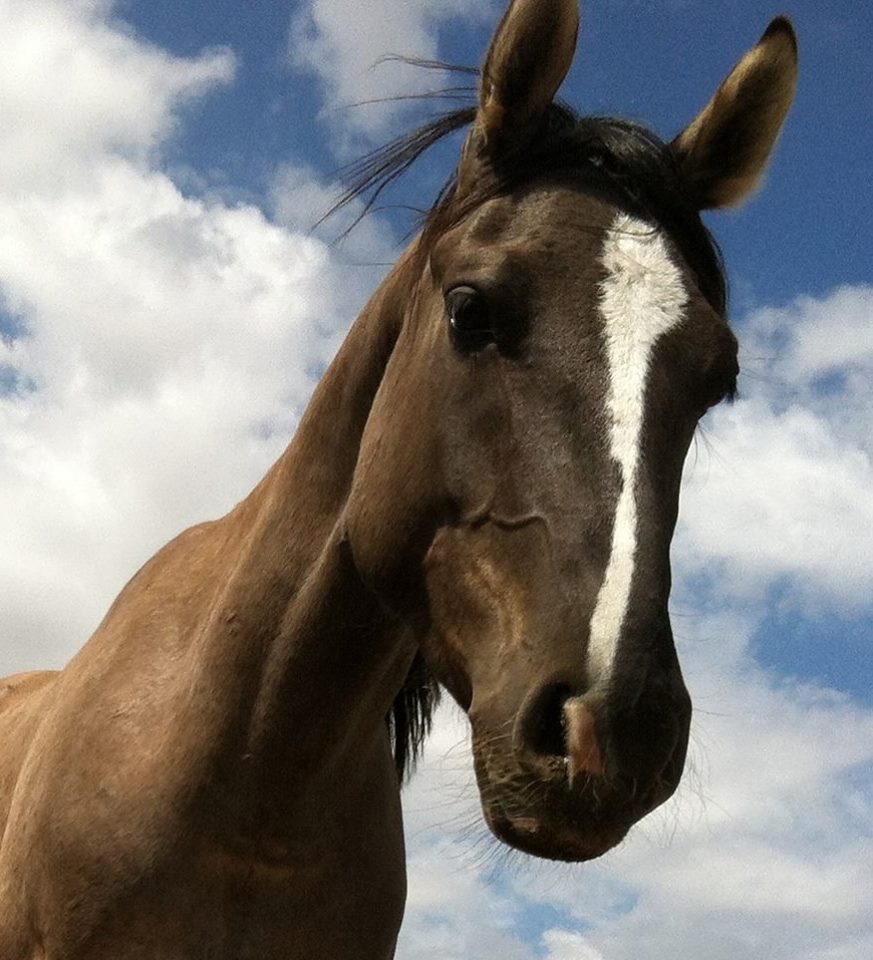 Horse Ibachakali is not equine therapy, but a healing program grounded simply and profoundly in the restorative properties of human connection to the natural world. Horses are proud members of their own Nation, and at Tapestry, we recognize that by treating them as peers with their own gifts of healing and teaching.  Read more here about our view of horses and how this view informs Horse Ibachakali. You can also meet the horses who heal and teach people in the program here. Whether you're a working mother stretched too thin by impossible demands, a business executive recovering from trauma, or a retiree trying to find your new life path, you owe it to yourself to discover the power of Mustangs, Indigenous worldview, mindfulness and connection: Ibachakali.
Program sessions are approximately 2 hours long, and are offered to individuals in small groups limited to a maximum of four people and horses. Special groups are put together for people referred to the program by therapists and physicians with whom we work, and other special sessions serve adult survivors of childhood sexual assault referred to us by the WINGS Foundation of Denver. We ask for a donation to cover the cost of your session, and every penny of it covers our costs to support the horses (who you can meet here), instructors, facility, and equipment that make the session possible. But full and partial scholarships are available, especially for people who've been referred to the program by WINGS, a physician, or a therapist. These scholarships are made possible by additional donations from our generous supporters. They cover costs such as caring for the horses and so permit us to make this program available to people in need who otherwise could not participate.
New sessions will be held in summer 2019. Contact us NOW to reserve your space, and especially to reserve your scholarship if you need one to participate.
To learn more, to put your name on a list for new sessions, or to apply for a full or partial scholarship: Email program director Jo Belasco. Yakoke! — thank you! — for your donations, which support the horses and help keep this program of profound healing available for everyone.
Download a flyer to hang in your barn or place of business.
See a short video about Horse Ibachakali here.
Tapestry Institute has spent more than 20 years developing programs that teach Indigenous ways of knowing and connecting, as opposed to specific cultural practices of ritual or ceremony, to people from all walks of life. Working with Indigenous colleagues from around the world, we have learned how to help people discover a way of seeing, understanding, and connecting that restores health and well-being, through the use of learning environments in which the natural world itself connects with and teaches people. Our programs are specifically designed so participants learn in intellectual, experiential, spiritual, and mythic ways, which is an Indigenous approach to knowing. The most gifted leaders in many of our programs have been the strong and compassionate mustangs who have come to us to help in this work. Horse Ibachakali was designed by Choctaw educator and scientist Dawn Adams, Ph.D., and Jo Belasco, Esq., a life-long horsewoman who has worked as a horse professional for 20 years. Horse Ibachakali is part of Tapestry's Horse-Human Relationship program.
*Yakoke (thanks) to Dora Wickson of the Choctaw Language Program, Choctaw Nation of Oklahoma, for helping us further refine the word we use to mean "connection." You may know of our horse program by the term we used previously, Itahoba. That word also means connection, but in a more detailed conversation with Dora and other Choctaw language speakers in the program, the word Ibachakali was suggested as even closer to the specific sense of "connection" to which we wish to refer.  You can hear a sound file of how the word is pronounced here.