In the basket you've seen, there are three colors of cane: some is dyed blue, some is dyed red, and some is left its natural color.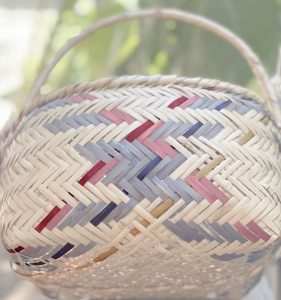 Strips of cane in all three colors are woven in both of the two weaving directions. In the conceptual basket we will weave together, all the strips of cane running in one weaving direction are Western Concepts. All the strips of cane running in the other direction are Indigenous Concepts. There are three subject areas in each conceptual direction (Western and Indigenous) because three colors of cane are woven both ways. In Western Concepts, the three subject areas are Paradigm Shifts, Evolutionary Ecology, and Complexity and Ecosystems. In Indigenous Concepts, the three subject areas are Indigenous Ways of Knowing, Indigenous Reality, and Indigenous Values.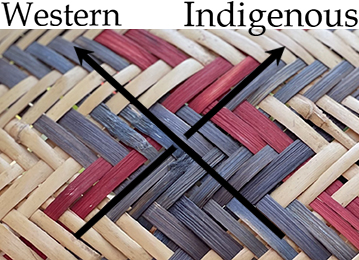 As you work through the pages of the exercise, you will use hypertext links to weave together Western and Indigenous cultural concepts in a way that permits you to start seeing key scientific concepts the way Indigenous scholars see them. Indigenous people, who live in physically and intellectually colonized landscapes, already have to weave together Western and Indigenous worldviews to navigate educational, health care, social, and work environments. People in Western culture don't have this [very challenging!] opportunity because they live in an environment that does not force them to deal with any worldview but their own. So it's difficult for people in Western worldview to comprehend the things their Indigenous collaborators talk about. This entire exercise has been designed to overcome that experiential deficit.
Choose another page of Preparing the Cane:
Or return to the home page if you've finished all these.