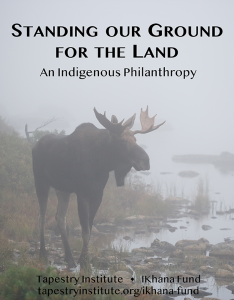 Download a PDF of the 2022 report
Standing Our Ground for the Land: An Indigenous Philanthropy.
You can also separately download a Word document or PDF of the First Principles that appear in the report. These files permit you to easily modify the Principles for your own specific situation. (If you need a copy in a different format, please contact us.)
Together, "Standing Our Ground for the Land" and the First Principles published at the end of that report facilitate collaboration between Western funders and Indigenous communities that doesn't inadvertently colonize Indigenous initiatives, peoples, and Lands.
The "Standing Our Ground" report is designed to help Western philanthropists better understand Indigenous collaborators and the importance of Indigenous Sovereignty. We also hope it helps everyone understand why and how the sovereignty of Indigenous Knowledge and of the Land itself are essential elements of Indigneous Sovereignty.  Because this document is intended to advance Indigenous Sovereignty and the Land-based knowledge and value systems in which it's grounded, the only way to apply it in a process of real-world collaboration is to let Indigenous people lead. That's what Indigenous Sovereignty means. But it's not always easy for people in Western culture to know what Indigenous Sovereignty looks like in practice. So several philanthropists have asked us for a bit more guidance about what this might look like. If you'd like to see our response, please scroll down to the GUIDELINES heading below for tips on how you can apply what you've learned from the report to your own collaborative relationships with Indigenous people.
INDIGENOUS COMMUNITY MEMBERS: You can separately download a Word document or PDF of the First Principles that appear in the report. These files permit you to easily modify the Principles for your own specific situation. (If you need a copy in a different format, please contact us.)As you adapt this resource to your own culture, ways, and Place, you'll develop something entirely new and very specific to your situation. We would very much appreciate getting feedback about how you modify and use these materials, and how things go with your Western collaborator when you do this. Our IKhana Fund team is working to better understand the processes of collaboration between Western philanthropy and Indigenous communities, and to produce and freely share additional resources we can all use to have more productive relationships with Western philanthropy. Please contact us if you'd like to contribute your experience to this larger community resource.
GUIDELINES FOR WESTERN PHILANTHROPISTS USING THESE RESOURCES: Whenever any of us tries to apply something new we've just learned, we almost always slide back into our habitual ways of doing things without even realizing it. For instance, if you change from driving a car with its shift lever on the steering column to one that shifted on the floor, you can suddenly find yourself groping for Reverse and turning on your windshield wipers by mistake. When it comes to something as fundamental as worldview, old habits of behavior are a lot stronger. And if the worldview is one that marginalizes other people, then those old habits can be destructive. So the process of applying what you've learned to your collaborative relationships with Indigenous people is a little harder than it might seem it should be. The result is that some of the Western philanthropists reading our report have asked us for extra guidance on how to put the information in this report into practice. Here are some quick tips we've prepared in response.
Earmark funds for Indigenous-led projects and disburse those funds. Money earmarked for Indigenous people that sits in a bank because of worries about Indigenous "capacity" is water sitting in a locked fire hydrant while a city burns down because you're worried the firefighters can't handle the job. Who are you protecting when you do that, and from what? Consider this: the Standing Our Ground report and its First Principles were developed and written with no external funding, and IKhana Fund's parent organization Tapestry Institute has (to date) no operating budget. The small amount of support we were able to offer IKhana Fund team members who could not otherwise have participated in the work came from the pockets of other IKhana Fund team members. Marginalization isn't a philosophical concept. Marginalization is exhausted Indigenous people running a bucket brigade from someone's kitchen to save burning homes while you block access to the fire hydrants because you're not sure we'd use the water wisely. Disburse the funds earmarked for Indigenous-led initiatives to Indigenous organizations and people.
Indigenous Knowledge is contextual. So don't try to scale up or universalize "Standing Our Ground" or the IKhana Fund First Principles. As we explained in our report (page 37), the roots of universal applicability run so deep in Western culture that "scaling up" is almost an autonomic reflex for philanthropists. But Indigenous Knowledge is highly contextual (same page). That's why we provide stand-alone re-writable files of our First Principles to Indigenous communities for free download. If an Indigenous community decides to stand on the ground of Indigenous Sovereignty in their own collaborative relationships with Western philanthropy (a.k.a you), they have to do it their own ways. If they download and modify any of the resources we've shared, that is also their business rather than yours. You should use our resources only to educate yourself so you can better understand the specific Indigenous people you work with. When there is apparent conflict between information in our resource and things your Indigenous collaborators say, they are right because Indigenous Knowledge is contextual.
Listen closely to your Indigenous collaborators. They will tell you what they intend to do and how they intend to do it. They will tell you what the outcome of their work means and what can and can't be shared about that work. Whatever they tell you, they are right. If you disagree with them, they are still right. They are right because this is an Indigenous-led project. If you decide what should be done and how, or what the outcome means and how that information is going to be shared, it becomes a Western-led project. So listen, and with respect. That's how you learn.
When your Indigenous colleagues ask your opinion, reply as you would to someone on the street who asks if you know what time it is. You just answer the question in that case, right? You don't go on to ask if the person is running late for an appointment, where the appointment is, and how the person plans to get there. You certainly don't start telling them what transportation they should use to get there faster or educating them about time management. The point here is that you know the difference between providing requested information and taking control of things. Use that same power of discernment in your collaborative relationships with Indigenous people.
Click here to learn more about IKhana Fund.
This work is written for the benefit of Indigenous communities and Lands worldwide. It is the result of research carried out by Tapestry Institute, a 501(c)3 nonprofit corporation. Tapestry weaves Indigenous Knowledge to life through programs of research and education such as this one.