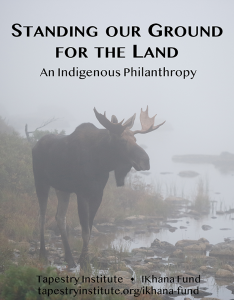 Download a PDF of the 2022 report Standing Our Ground for the Land: An Indigenous Philanthropy.
INDIGENOUS COMMUNITY MEMBERS and interested philanthropists are also invited to download a copy of Indigenous First Principles to Guide Collaboration Between Indigenous Communities and Western Philanthropy. These are the First Principles mentioned in the full report. They have been separated into their own document for your use.
This link downloads a copy in a Word document that can be easily modified for your own specific situation.
This link downloads a copy of the same document as a PDF.
We respectfully ask anyone who uses this document to help us improve it. Please contact Dawn and let us know what you're doing and how it worked, as well as what kinds of things you changed to improve your own collaborative experience between Western philanthropy and Indigenous people.
Click here to learn more about IKhana Fund.
This work is written for the benefit of Indigenous communities and Lands worldwide. It is the result of research carried out by Tapestry Institute, a 501(c)3 nonprofit corporation. Tapestry weaves Indigenous Knowledge to life through programs of research and education such as this one.