Tapestry Institute weaves Indigenous Knowledge to life through activities and publications that use Indigenous ways of knowing, learning about, and responding to the natural world.
Ish vla ka achukma! (Welcome!)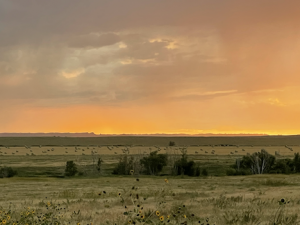 Tapestry Institute does unique things in powerful ways that bring Indigenous Knowledge to Life. A nonprofit constrained by the standard boxes of mainstream business organization couldn't do work this innovative. But we're Indigenous. We know how to creatively reconfigure Western boxes to facilitate Indigenous Knowledge and creativity.
Tapestry's staff consists of two non-hierarchical co-presidents. Dawn Hill Adams (Choctaw), founded Tapestry 25 years ago. Jo Belasco, Esq. has been an integral part of Tapestry almost as long, helping Dawn design our centering model of Different Ways of Knowing back in 1999. An even more powerful part of our organization is our Land partner, the prairies and forests of the Pine Ridge region of northwestern Nebraska. Our Board, a group of skilled and generous, mostly Indigenous and a few non-Indigenous people, work right alongside the staff to understand and apply the Knowledge from Land and Ancestors that guides everything we do.
One of the most essential keys to our small organization's ability to accomplish big things is the network of Indigenous friends and colleagues, and all their Lands too, that participate in our work from all over the world. Some are past or present members of our board and some are new friends. We all come together as teams to work on high-level IK research that can only happen in close collaboration between Indigenous academics, Elders, artists, filmmakers, storytellers, and healers. There is no way a nonprofit could hire prominent professional people of this caliber on a full-time basis. The collaborative team approach to project work we use instead permits us to carry out world-class research with colleagues who are literally the top people in their fields. And it all works because it circles back to our professional staff with the expertise to initiate, support, and follow through the team-based process to get a project from first inception to Knowledge we can share with our communities.
That sharing happens through publications, our newest being the IKhana Fund Planning Team's 2022 report on Indigenous Philanthropy. We also share what we learn in public education venues such as talks to environmental groups or university classes, and in the pages of this website. After all, learning and teaching are two sides of the same leaf.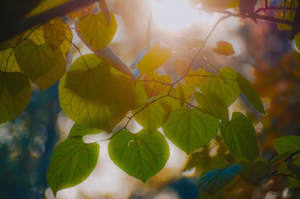 When you hold a leaf up to the sun so the light can pass through, you see that both sides of the leaf are shaped by one thing: the leaf's deeper, inherent structure. Indigenous Knowledge is the deeper, inherent structure that shapes learning on one side, and teaching on the other. And by Indigenous Knowledge here, we mean the kind of knowledge that has agency. If that word makes you feel like we're talking about Knowledge as if it has its own agency . . . good. Hang on to that.
Tapestry Institute acknowledges that the land where we work and live is part of the traditional homeLands of the Arapaho, Cheyenne, and Lakota nations. This acknowledgement appears in the footer of every page on our website.

— The photograph on the top of this page, and the landscape that opens the text, were taken in the Pine Ridge area of northwestern Nebraska by Jo Belasco, Esq., Tapestry's co-president. © 2019 Jo Belasco. All rights reserved.  The photograph of leaves backlit by the sun was is by Markus Spiske, on Unsplash.
— The recording of the welcome in Choctaw was very kindly made for us by Dora Wickson, an Elder in the Language Program of the Choctaw Nation of Oklahoma.